Profile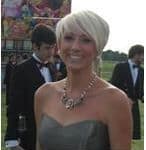 Rebecca Randell
in the lab on a Saturday!
Curriculum Vitae
Education:

Blisworth Primary School (1992-1998), Campion School and Sixth Form (1998-2005)

Qualifications:

University of Birmingham

Work History:

Waitress at the Wimbledon Championship. Financial consultant (Barclaycard). Waitress and bar maid.

Current Job:

Researcher in Sport and Exercise Nutrition

Employer:

University of Birmingham, School of Sport and Exercise Science
Favourite thing to do in my job: I love meeting and talking to new people so I enjoy have subjects in the lab and chatting to them while testing. I also love travelling so far I have been to Germany, Holland and Hawaii doing research on athletes.

My Work

I am a researcher. I investigate different nutritional strategies to increase fat burning during exercise and how this can enhance exercise performance and combat obesity

Read more

I do my research at the University of Birmingham in the School of Sport and Exercise Science department. I work for Professor Asker Jeukendrup and alongside another study called Adrian Hodgson . My department is split into different areas for example, sport psychology, physiology. I am apart of the Exercise Metabolism group within this group we do research on building muscle in athletes, using exercise to prevent diabetes and using different foods to enhance athletes performance. I am currently looking at different foods to not only increase performance but also how these foods could prevent obesity/ weight gain.
I have just completed one study looking at the effects of Green Tea on fat burning during exercise. Hopefully our results will show that if we drink green tea we can increase the amount of fat that we use as energy during exercise and at rest.

Read more

Every day is different some days I am in laboratory testing and others are less exciting and I'm at my desk writing and reading.
On a typical day in the laboratory I have to wake up at 4:45am to be at Uni for 6:00am (I've recently discovered I'm not a morning person). I set up my laboratory with everything I need and my subjects arrive at 6:15am- I'm not the most popular person asking people to arrive so early and what is even worse is i don't allow them to eat breakfast!!!
However, I do let them rest for 2hours after they have drunk a can of green tea. They get to watch a film and I sometimes catch bits of the film while taking blood samples from them. After 2hours my subjects ride on the bike for an hour and I measure all the oxygen and carbon dioxide that they breathe in and out. I use these figures to calculate how much fat and carbohydrate they use as a fuel for energy during the exercise.
When I'm not testing I spend time in meetings and do lots of reading and writing- which is not as exciting.
After work I try and do some form of exercise i've just started doing triathlons so I spend time running, biking and swimming or playing netball.

My Interview

How would you describe yourself in 3 words?

Happy, Sociable, Blonde

What's the best thing you've ever done in your career?

I did research with athletes in Hawaii

Were you ever in trouble at school?

"Giggling girls at the back please be quiet" was a phrase I heard alot

Who is your favourite singer or band?

I used to be a fan of Girls Aloud but now I listen to Athlete and Jason Mraz although I'm a massive fan of Beyonce

What is the most fun thing you've done?

Before I started University I went travelling for 6 months to Fiji, New Zealand, Australia and Bali.

If you had 3 wishes for yourself what would they be? - be honest!

1) To go for dinner with David Beckham. 2) Be a famous singer. 3) Be invisible when I wanted.